C4 is proud to hosting Blockchain Training Conference 2019 in Denver this August 28-30. BTC is different than your average crypto conference because instead of speakers, we have teachers. This is not a conference where you'll hear pitches on ICOs from questionable companies. Sponsors don't get stage time simply because they're helping pay for the event. Every course session is designed with two or more learning objectives, and every teacher cares that you learn something useful from their session. With almost 16 hours of educational content, it's like you're getting an entire college course, condensed into just three days. On top of all of this, you also have the chance to earn your Certified Bitcoin Professional designation onsite or online as part of your ticket purchase to BTC.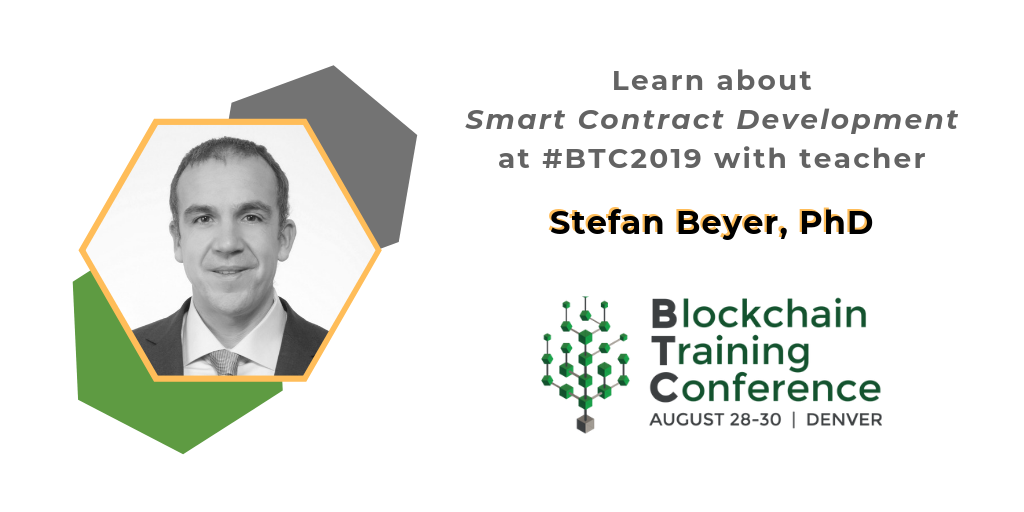 We're excited to spotlight some of our BTC2019 teachers this year, and today, we'd like to introduce you to Stefan Beyer, PhD. Stefan will be teaching "Smart Contract Development - Security and Best Practice." Check out our chat with Stefan to learn more:
How did you get involved in your subject area & why are you passionate about teaching it?
I started in academic computing research in 2004 (pre-Bitcoin). After moving into the industry, I became head of R&D of a large cybersecurity company and now combine the two subjects. I am convinced that smart contracts will form the base layer for a new finance system, and will be used to automate many business interactions. I believe that all smart contract programmers should be aware of the pitfalls involved with security.
Why do you think certifications and standards are important in the blockchain industry today?
Like any new industry, the blockchain ecosystem has grown dynamically, driven by implementers. This naturally leads to certain incompatibilities in terms of different technological approaches but also in terminology. It is important to standardize certain things at the technical level, for example how identities are managed on the blockchain, in order to make these new systems interoperable. Furthermore, it is important to make sure all stakeholders speak the same language. For example, not everything that is called a consensus protocol these days really is a consensus protocol.
Why have you decided to teach a session at #BTC2019?
I am worried about the quality of blockchain professionals and the reputation this new industry is becoming. I would like to participate in the adequate training of blockchain developers.
We're looking forward to attending Stefan's master class at BTC2019! Make sure to join us by getting your tickets here.